Early work by the artist.
"You can make your superhero a psychopath, you can draw gut-splattering violence, and you can call it a 'graphic novel,' but comic books are still incredibly stupid."
– Bill Watterson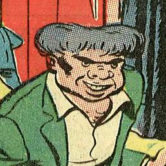 Comics To Read
Welcome! You've found it! Here at long last is where you can actually purchase Comics for Grownups!
As we work to produce more and greater comics, some of the comics we have made in the past will become available on this site in the following modes:
On Paper – The traditional method of absorbing comics, made popular in the 20th century.
On Mobile Phones – Portable! Read them while you're taking the subway or the train to work.
Electronic – Store as an .RAR file on your computer and access from the reader of your choice.
Available Comics!
Gentlemen's Pernicious Entertainment
Walls of Eryx
Also, DIRTY COMICS are coming! At some point.
It is June of 2020 as I write these words, and the work of reassembling the 2.0 version of the site plods onward. It is dull and complicated, but I hope one day that I will be finished. Until then, links may not work, but do not lose heart! We are progressing as fast as we can and we appreciate your visit to
COMICS FOR GROWNUPS!